Manuka Pharm Manuka Honey MGO 70 250g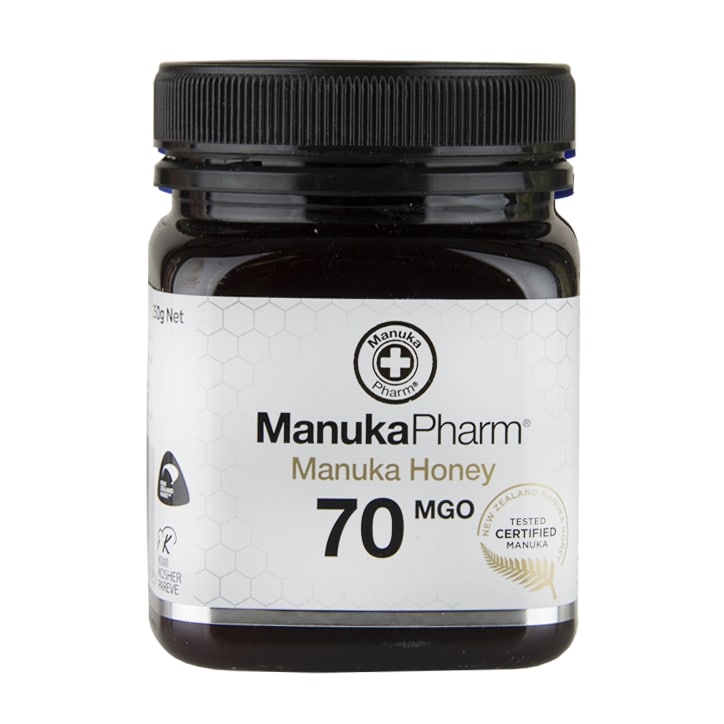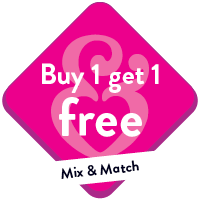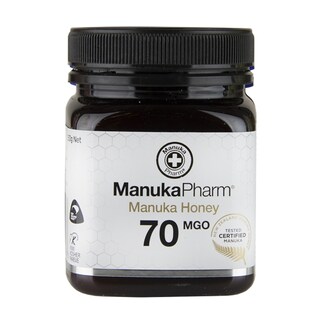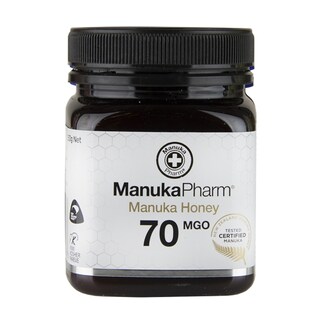 Manuka Pharm Manuka Honey MGO 70 250g
Benefits
Contains antibacterial properties
Provides support to general wellbeing
Fully traceable back to New Zealand
Manuka Pharm Manuka Honey MGO 70
Manuka Pharm's 100% genuine New Zealand multifloral manuka honey offers wide ranging benefits in every mouthful, thanks to an MGO of 70. Manuka honey is produced only in New Zealand, where keepers set up hives in wild areas filled with manuka bushes, or leptospermum scoparium.
This uncultivated, remote setting allows bees to feast on the hugely beneficial manuka plant, along with other native plants.
Used as a remedy by the native Maori people for over 4000 years, manuka honey has impressive antibacterial and antimicrobial properties. This gives it a variety of food and skin care uses.
Manuka honey for skin care
As an antibacterial, with a low pH, manuka honey offers great benefits to your skin. Its high sugar concentration Manuka Honey is known to keep the skin hydrated, soften the skin.
Others water down manuka honey to use as a cleanser, resulting in cleaner, softer skin.
Most popularly, manuka honey is used in masks, often blended with oats and left to do its work while you relax.
For many hundreds of years indigenous people have used manuka honey.
Manuka: working from the inside
As an antimicrobial, manuka honey can help in keeping you healthy, without employing unnatural, chemical based remedies. A source of fructose which leads to lower blood glucose rises compared to foods containing sucrose and glucose.
Why choose Manuka Pharm?
Specialists in high quality New Zealand harvested manuka honey, Manuka Pharm is fully traceable from hive to home.
Each jar displays the New Zealand government's seal of approval, so you know you are enjoying the real thing on your toast.
Manuka Pharm's 70 MGO (methyglyoxal) is derived from the naturally present DHA in manuka nectar. Each manuka honey grade or rating is validated in independent labs in both NZ and here in the UK.
Totally unblended, unlike other honeys, Manuka Pharm manuka honey is produced in unpolluted countryside and packed and sealed in New Zealand for guaranteed purity, nothing added.
Full ingredients
Fully traceable 100% New Zealand Multifloral Manuka Honey
Always read the label before use
Per Serving:
Energy
294kj / 70kcal
Fat
0.0g
of which saturates
0.0g
Carbohydrates
17.2g
of which sugars
14.9g
Protein
0.0g
Salt
0.0g
Per 100g:
Energy
1400kj / 335kcal
Fat
0.2g
of which saturates
0.1g
Carbohydrates
81.9g
of which sugars
70.9g
Protein
0.2g
Salt
0.0g
Advisory Information:
Not suitable for infants under 12 months. Suitable for vegetarians. Kosher
Remember to:
We go to great efforts to ensure that the information on this page is accurate at the time that the page was last edited. As we are constantly reviewing and developing our products to meet our consumer needs, consumers, particularly those that suffer from allergies and intolerances, should always check product labelling, warnings, and directions provided with the product that is delivered, prior to use or consumption.
Directions:
Store in a cool place away from direct sunlight. If honey consistency is hard, warm to soften. Consume within 12 weeks of opening.
Key Ingredients
Manuka Honey
Naturally antibacterial, this honey is produced in New Zealand from the flowers of the manuka bush. It has a high methylglyoxal (MGO) content, helping to soothe sore throats. A source of fructose which leads to lower blood glucose rises compared to foods containing sucrose and glucose.
Ways to Use
Step 1
It can be used as a natural sugar alternative as well as an alternative to artificial sweeteners
Step 2
Manuka Lab Manuka Honey MGO 40 can also help soothe a sore throat. Dissolve one spoonful in a cup of warm water or eat from the spoon
Step 3
Try drizzling it over thick Greek yoghurt with berries or swirling into your morning oats