Have you heard about SlimBiome®? It's our new clinically proven weight management system designed to make managing your weight easy as well as healthy. Don't just take our word for it though!
We followed three people taking SlimBiome® for a month to see how it helped them learn how to lose weight and gain confidence. Read about their amazing results below.
"I've tried quick fixes before and failed – now I honestly don't even feel like I'm on a diet!"
Ross, 35, from Wales
Weight lost: 16lb / 7.3 kg
Since starting my SlimBiome® programme, I have found that I am waking up without hunger pangs and without so much grogginess, it's like I'm ready to face the day. It honestly doesn't feel like I'm on a diet. I am making some really delicious meals, they are calorie counted but because the SlimBiome® kicks in to help you feel full I am never left hungry. Generally, I just have more get up and go! I am walking three to four miles when the weather is good and now wake up 15 minutes earlier to walk to and from the train station for work. This is the easiest diet I have EVER done. I feel great, I'm moving more and I'm so motivated."
How does SlimBiome® help you feel full? The patented SlimBiome® formula contains the dietary fibres glucomannan and inulin, which expand in the stomach to keep you feeling fuller for longer. It also contains chromium which helps keep your blood sugar in check and helps you absorb macronutrients efficiently – leaving you less likely to crave snacks or overeat at mealtimes.
"After just four weeks I needed a whole new wardrobe, and lots more gym gear!"
Jasmine, 26, from Bedfordshire
Weight lost: 9lb / 4kg
"I've got big plans for this year that require me to be in good shape and healthy both physically and mentally. With the help of SlimBiome®, I'm well on my way to being a happier, healthier me. Drinking the sachets before mealtimes has been easy to maintain, and the filling effect of the fibre has been an absolute godsend. My "always hungry" attitude to food has gone, and I now only eat when I need to. I've lost 6.5cm off my hips and 4.5 cm off my thighs, meaning I can fit into jeans that are a size smaller. I've lost 5cm from my waist, and 4.5cm from my chest. My semi-flat stomach has made a comeback – I need a whole new wardrobe! I'm so happy with the results.'
Is SlimBiome® good for me? Yes! Not only will SlimBiome® help you manage your weight, it will also nourish your body with essential vitamins and minerals to support your bodily functions and help keep your energy levels up.
"I'm starting to feel comfortable in my skin"
Deborah, 45, from Durham
Weight lost: 6lb / 2.7kg
"For me, SlimBiome® isn't about weight lost, but confidence gained. I've used it as part of a healthy lifestyle rather than a quick-fix weight-loss tool. My sachets were pineapple, and I was pleasantly surprised by the taste! I've lost 7.5cm off my waist and 9cm off my hips. If I keep going at this rate, I'll be at my target by summer. Some days I grab food out and about, other days I cook from scratch, but I've loved every minute. It's about balance, not depriving myself. I am so much more positive and relaxed."
Is SlimBiome® scientifically proven for weight management? It sure is! SlimBiome® has been the subject of multiple studies. Independent studies from Oxford Brookes University concluded that volunteers taking SlimBiome® has reduced cravings for sweet foods, made better food choices and ate less fatty food.
Which SlimBiome product is for me?
Each SlimBiome® product has the same base formula, with SlimBiome® + DIGEST and SlimBiome® + THERMO having a few added extras! Try one of them today and see how they can help you manage your weight, easily.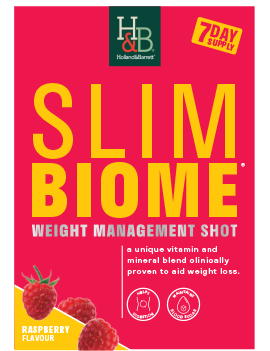 SlimBiome® (£18.99, 21 Raspberry Flavoured Sachets, 7-Day Supply)
SlimBiome® Original contains glucomannan and chromium to help your body to metabolise macronutrients, maintain normal blood glucose levels and support overall weight management.
Supports weight management
Maintains blood sugar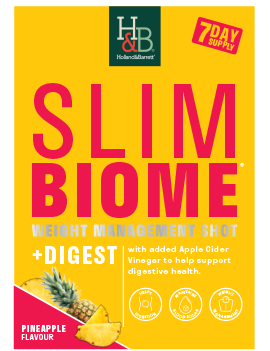 SlimBiome® + Digest (£19.99 21 Pineapple and Coconut Flavoured Sachets, 7-Day Supply)
SlimBiome® + Digest is combined with Aloe Vera to help with digestion, apple cider vinegar, liquorice and 3 billion friendly bacteria.
Supports weight management
Maintains blood sugar
Helps digestion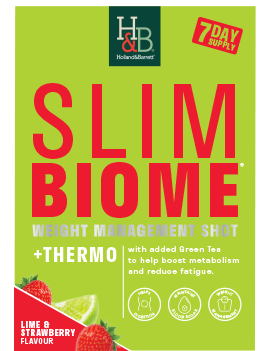 SlimBiome® + Thermo (£19.99 21 Strawberry and Lime Flavoured Sachets, 7-Day Supply)
SlimBiome® + Thermo is combined with guarana, green tea extract and garcinia cambogia to support fat oxidisation.
Supports weight management
Maintains blood sugar
Boosts metabolism