So, you've been told to stay home, but what does that mean for your furry companion? Can you take your dog for a walk when self-isolating? How about if you're just following social distancing? Does the new lockdown affect this? Read our guide below and hopefully it will become a little clearer!

Can pets get coronavirus?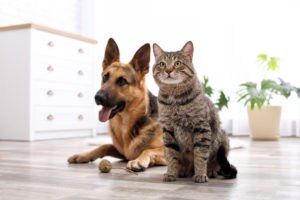 There is no evidence to suggest that cats, dogs or other pets can get COVID-19 or be carriers of the virus. However your pets may be impacted if you or any members of your family tests positive for the virus.
Should I get rid of my pet because of coronavirus?
No! There is no COVID-19-related reason to abandon your pets. Although you may have to change the way you look after your pets for a few weeks or months, these changes are relatively simple. Re-homing shelters will be feeling the strain too with staff shortages, less money, etc, so getting rid of your pet will not help at all.
How to look after pets when 'social distancing'
Continuing with good hygiene practices when interacting with pets is advised, like always. Your pets shouldn't pose any coronavirus-related risks to you and your household if none of you are ill or self-isolating.
Make sure you:
Wash your hands thoroughly with soap and water after stroking or playing with your pet, or handling their food, toys or bedding
Avoid being licked or kissed by your pet – who knows where that tongue has been!
Don't share food with your pet
Make sure you have enough pet food and medication for your pet in case you need to stay at home
When walking your pets outside, stay at least 2 metres away from other people
Contact your vet if you have any additional concerns
Can I walk my dog during lockdown?
Yes, you can walk your dog during periods of lockdown - just maintain usual social-distancing measures and stay at least 2m away from other people.

How to look after pets if you need to self-isolate at home:
If you or a member of your household gets sick, there are a few changes you should make when looking after your pets. Just like you should be limiting contact with other people when you're ill, you should avoid snuggling, petting, sharing food or being kissed/licked by your pets.
Wear a face mask and make sure to wash your hands before and after any interaction with your pets. If possible, get somebody who isn't ill in your house to care for your pets, e.g. feed, medicate and play with them.
Although you and other members of your household won't be able to take your dog for their usual walks if you're self-isolating, there's plenty of ways to keep your dog healthy and happy in your own home. It's not forever. You can ask healthy friends and family to take them for walks, perhaps even a dog walker, just make sure they wash their hands before handing your dog and after handing them back to protect themselves.
Got a horse? The British Horse Society has information and advice on how to care for your horse during the coronavirus outbreak.

What should I do if my pet gets ill?
It's worrying at any time if our pets show signs of ill health, but please don't go to visit your vets immediately. Call them for advice instead. Also, as you won't be able to take your pet to the vets yourself, try to get a plan together so that somebody else can take them.
Tips on how to keep your dog happy without walking them
While you may be feeling a little guilty that you can't take your dog for a walk – please don't! You can keep your dog entertained by stimulating them mentally until you're fit and healthy enough to take them for a walk. Here's a few ideas:
Turn meal-time into puzzle-time with a kong or food puzzle.
What do all dogs like to do? Play! Throw a toy or ball for them to fetch or play a little tug-o-war.
Prove them wrong and teach your (old) dog a new trick. The internet is full of videos and guides on how to teach your pooch a new skill.
Send you dog on a treat hunt by hiding their food around the house and garden – you'll be amazed at how long this keeps them busy!
Make sure you let your dog out into the garden to have a good old sniff and use the toilet.
Bring the outside inside for your furry friends with entertainment videos for cats and dogs .
Please remember that there is no current evidence that pets can catch COVID-19 or spread it, these are just precautionary measures.
Last updated: 02 November 2020
Sources 
https://www.bbc.co.uk/news/science-environment-52204534