Do you think you may have rosacea, but aren't sure what it looks like? Or perhaps you're interested in all things skin-related (like us!) and want to find out a bit more about it?
This article is designed to provide you with a useful introduction to the skin condition rosacea, which happens to be more common in women and people with lighter skin
1
, and is pronounced like this - roe-zay-she-uh. Simple, right?!
So, now you know how to pronounce it, do you know how to identify it?
Common signs and symptoms of rosacea:
Characteristic 1: Red skin
Rosacea usually causes a persistent redness in the central part of the face. This is caused by the small blood vessels on your nose and cheeks swelling and becoming more visible. Yellow-orange patches may also appear too.
Characteristic 2: Acne-type bumps
Many people also develop pimples on their face that look a lot like acne, which is why rosacea can get mistaken for acne or other skin problems. These bumps may contain pus.
Characteristic 3: Irritated eyes
It's not uncommon for people's eyes to feel dry and irritated and become swollen and red, eyelids included. This is referred to as ocular rosacea.
Characteristic 4: Enlarged nose
Over time, rosacea can cause the skin on the nose to thicken, making it appear bulbous. This tends to happen after many years.
As you can tell from the descriptions above, rosacea can present itself in many different ways, with people experiencing one or multiple symptoms.
Some people with rosacea may have more severe symptoms over different parts of their face. For example, the condition may start with a red spot or patch on one cheek or another part of the face, that then spreads to other areas. And in some instances, some people can have similar symptoms on both sides of their face.
2
So, now that we've covered some general descriptions of rosacea, what do those characteristics look like in reality? Take a look these rosacea pictures: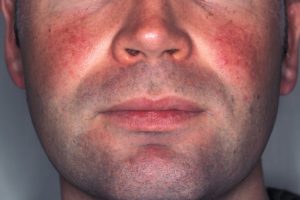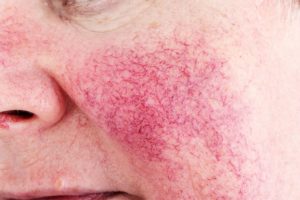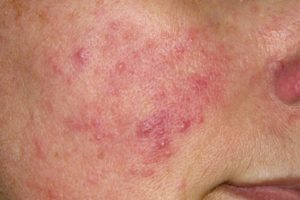 Images sourced from NHS England
Rosacea causes
Rosacea affects around 1 in 10 people in the UK.
3
People tend to get it on the skin that's on their nose, cheeks and forehead. It doesn't usually appear anywhere else on the body.
4
What's more, it isn't caused by poor hygiene and isn't contagious.
5
However, the actual cause of it remains unknown. Certain things can reportedly make it worse and flare up, especially certain food and drink and too much aerobic exercise
6
:
Food and drink rosacea triggers:
Alcohol
Spicy food
Cheese
Caffeine
Hot drinks
Living with rosacea: 5 self-care measures
Unfortunately, there's no cure for rosacea
7
, which makes learning to live with the condition even more important.
While it may be difficult to pinpoint what causes rosacea, it's widely recognised there are certain things that can help with the symptoms. They include:
Protecting your skin from the sun with an SPF (of at least 30) every day.
Avoiding over-rubbing or scrubbing your face when cleansing.
Steering clear of perfumed soap and moisturisers that can irritate the skin.
Switching to an emollient.
Trying to understand your rosacea triggers by keeping a journal of when the symptoms flare up or calm down. The National Rosacea Society has published a booklet, Rosacea Diary, that's designed to help patients identify and avoid their individual rosacea triggers.
Would you like to learn more about rosacea? Take a look at our article, '
Rosacea – who gets it?
'
Last updated: 20 May 2020