It is possible for beauty to be kind to your skin, but is it being kind to the planet?
None of us are strangers to the concept of sustainable living, but not everybody realises it applies to beauty now too. For example, in the form of plastic-free packaging and ingredients, biodegradable product swaps and naturally-derived ingredients.
Like the sound of what you've just read? Then you may be even more interested to hear you can help spread the sustainable beauty word by giving sustainable beauty gifts this Christmas (and all-year round, if you like).

Sustainable beauty Christmas gifts ideas:
Sustainable collections/kits
Gift idea:
Beauty Kitchen Seahorse Plankton+ Discovery Collection Starter Kit 5 items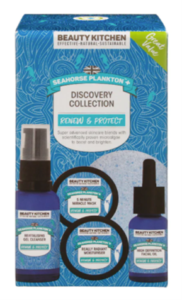 This collection is the perfect way to try Seahorse Plankton+ for the first time. All of the kit items have been made from sustainable ingredients that contain zero plastic and are vegan and cruelty-free. What's more, return the empty containers to any Holland & Barrett store and get 100 Rewards for Life points.
Gift idea: Beauty Kitchen Abyssinian Oil Discovery Collection Starter Kit 4 items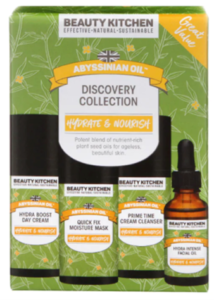 This vegan, cruelty-free kit contains four skincare pick-me-ups made from sustainable ingredients with a potent blend of Omegas 3, 6 & 9 and Abyssinian Oil to hydrate, nourish and restore skin. Return the empty containers to any Holland & Barrett store and get 100 Rewards for Life points.
Gift idea: Ethique Hair, Face & Body Trial Pack - Normal Skin & Hair Types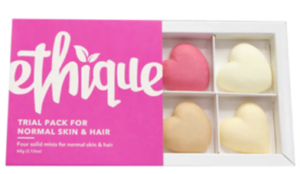 Ethique's trial pack contains a range of products that have been designed for normal skin and hair. It contains four samples: Pinkalicious solid shampoo for normal hair, Wonderbar solid conditioner for oily/normal hair, Bliss Bar solid face cleanser and a solid Butter Block suitable for all skin types. These bars don't come in any plastic bottles, containers or other packaging, and the box they arrive in is 100% compostable. (Also available in a dry skin and hair range).

Sustainable stocking filler/hamper items
Magnitone XOXO Micro-Sonic SoftTouch Silicone Facial Cleansing Brush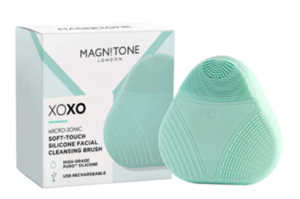 Ditch single use cotton pads for removing your make up and cleansing and reach for this cute, compact and ultra-soft daily cleansing brush goes deep and purges pores from impurities in the most gentle way. The soft silicone touch-points transmit over 8,000 Micro-Sonic pulsations a minute, deep below the skin's surface, emptying out pores and gently massaging skin for a beautifully conditioned, healthy glow.
Other stocking filler/hamper items include:
Like the idea of giving a bundle of sustainable gifting goodness this Christmas? Mix and match the 23 zero waste items below to create stocking fillers and hampers that have been 100% tailored to the people you're buying for:
Soap/body & hand wash:
Face care:
Hair care:
Oral care:
Toiletries:
Useful items:
'The connection between zero waste beauty and a zero waste world.'
Last updated: 12th October 2020