Ahh, tea, it's perfect for those busy days, hectic moments and – getting into the festive spirit.
Yes, that's right, sipping on a cuppa can make you feel Christmas-y, especially if you happen to have stewed a cup or pot of festive tea bags.
Not only is it the perfect pick-me-up after you've been decorating the house with baubles, Christmas shopping or racing around making festive arrangements, we all know just how comforting it can be to take the weight of your feet and relax with a hot mug of tea.
Tea can help make you feel magical too, especially if it's festive-themed or tasting (more on this below).
You may not have heard of them, but Christmas tea bags do exist, in all of their festive glory. Fancy a bit of a rundown of what the festive tea options and tea-related gifts are?
Give the gift of Christmas tea presents
Christmas tea treat 1: Offblak Tea Gift Box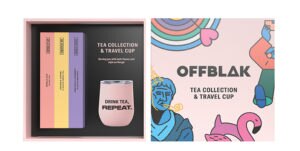 Whether you want to sip your tea lounging around at home or on the go, this gift set has got you covered in terms of flavour and style. Enjoy the unique tea flavours in a trendy travel cup!
This special tea gift box contains: 36 premium black teas, green teas and herbal and fruit infusion tea, as well as a Stainless Steel travel cup.
Christmas tea treat 2: Offblak Advent Calendar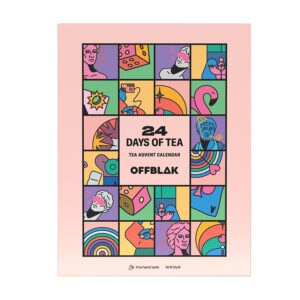 An absolute must for tea lovers everywhere, this advent calendar is packed full of black teas, green teas and herbal and fruit infusions with flavourings. Each day presents a different tea treat – from twists on classics, to new contemporary flavours.
Tea bag flavours include: Down Time (rooibos, apple pieces, flavourings, hibiscus, spearmint and bilberry), Sleep Breezy (lemongrass, chamomile, rosehip, apple pieces, flavouring and blackberry leaves), Sweet Bliss (black tea, flavourings, cinnamon, apple pieces, red bilberry, orange flowers, pineapple pieces and blackcurrant leaves), You're Golden (black tea, ginger, cinnamon, clove buds, orange peel, lemongrass, flavourings and orange flowers) and Future is Pink (black tea, lemon peel, lemongrass, rose petals and flavourings).
Enjoy the taste of Christmas tea
Christmas tea treat 4: Yogi Tea Classic Organic Cinnamon Spice Tea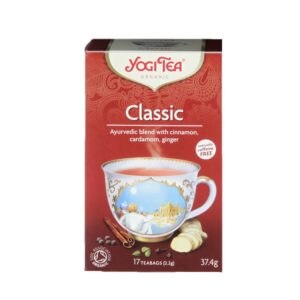 This tea contains a masterful blend of ginger, cardamom, cinnamon and cloves that's heart-warming, , delicious, spicy and wonderful. Yogi Tea classic comes with a delightful flavour.. Close your eyes, inhale and let the rich, exotic aroma of Christmas X4  - cinnamon, ginger, cardamom and cloves.
Christmas tea treat 5: Heath & Heather Organic Apple & Cinnamon Tea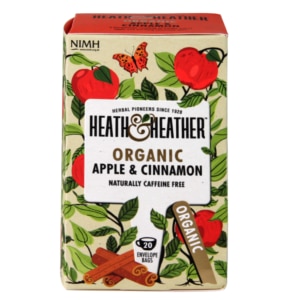 Cinnamon is one
the
scents of Christmas, and when combined with apple in teabag form, you have a deliciously spicy, but sweet flavour combination. Naturally caffeine-free, these tea bags are made from organic apple pomace, organic hibiscus, organic cinnamon, organic apple, organic roasted chicory root and organic elderberry.
Christmas tea treat 6: Pukka Organic Three Ginger Tea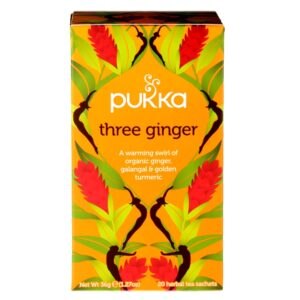 Ginger's everywhere come Christmas-time, in mulled wine, gingerbread houses and gingerbread men. These Pukka Three Ginger tea bags are truly invigorating, thanks to the wonderful combination of ginger, galangal and golden turmeric. Tingle your taste buds and instantly feel festive.
Christmas tea treat 7: DIY Mulled Tea
If you've got the time and like the idea of making your own festive brew, then why not try making some Mulled Tea? You'll need:
1 tbsp dried rose petals
4 cloves
1 bay leaf
1 cinnamon stick
2 handfuls frozen mixed berries
1 tsp cranberry sauce
½ orange, quartered
1 green tea bag
Instructions: 
Pour 1 litre of water into a large saucepan, add the dried rose petals, cloves, bay leaf, cinnamon stick, frozen mixed berries, cranberry sauce and orange.
Bring the mixture to the boil, stirring occasionally then take off the heat.
Add the tea bag and leave in for two to three minutes.
Strain the mixture and then serve warm.
Whether you're gifting tea, drinking tea or making tea this Christmas, we hope it helps you feel festive! For more festive insight read,
'Three easy-to-make Christmas treats.'
Shop Teas
Last updated: 8 October 2020