For this lamb recipe, switch up your usual couscous for protein-packed quinoa for a great gluten-free occasion meal, full of the flavours of the Middle East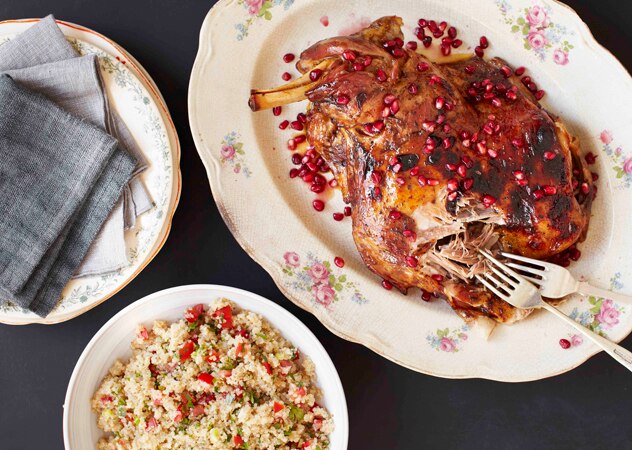 Preparation time: 25 minutes
Cooking time: 6.5 hours
Serves 4-6
INGREDIENTS
2kg whole lamb shoulder
100g pomegranate molasses
100g pomegranate seeds
200g quinoa
400ml chicken stock
100g parsley, finely chopped
50g mint, finely chopped
200g tomatoes, deseeded and finely chopped
4 spring onions, finely sliced
1 lemon, juiced
Method
1. Preheat the oven to 130°C/110°C fan. Place the lamb in a large deep baking dish and, using a sharp knife, make small but deep incisions over the whole surface. Sprinkle over generous seasoning and then drizzle over the pomegranate molasses. Pour a small glass of water into the dish to help the steam. Seal the pan with a damp and crinkled piece of greaseproof paper and then a layer of foil, making sure the foil is tightly secured. Place on the bottom shelf of the oven and cook for 6 hours.
2. When the lamb is nearly done, heat up your grill and boil the quinoa in the chicken stock according to the timing instructions. Drain the quinoa when it is done and return to the cooled pan, season really well and stir through a splash of olive oil to stop it sticking together.
3. When the quinoa has cooled slightly, mix through the remaining ingredients.
4. When the lamb is cooked, place it under the grill for 5 mins or until golden and crisp. Serve on a large platter with the pomegranate seeds sprinkled over and with the quinoa on the side.