GLUTEN-FREE / WHEAT-FREE / DAIRY-FREE / VEGAN / NO REFINED SUGAR
Prep time: 20 minutes
Cooking time: 0 minutes (4 hours chilling time)
Serves: 9-12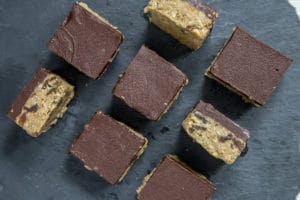 Ingredients:
| | |
| --- | --- |
| For the base - | For the chocolate topping -   |
Get making!
Mix together the oats, cinnamon and raisins in a bowl.
Gently melt the coconut oil, peanut butter and maple syrup, then pour into the dry ingredients with the vanilla and mix well - it should form a flapjack mixture.
Tip this into a lined rectangular tupperware box and press down to form a generous layer. Smooth out evenly and keep in the fridge while you make the topping.
Gently melt the coconut oil, tahini and maple syrup then remove from the heat and whisk in the cacao powder to form a slightly thick chocolate sauce.
Pour this evenly over the oat base and spread out to cover. Return back to the fridge for at least 4 hours to set.
When you're ready to serve, gently lift out the whole thing from the box and transfer to a chopping board. Cut into small squares and eat straight away.
Keep any remaining squares in the tupperware box in the fridge for up to 2 weeks or in the freezer for up to 1 month.
Curated by
www.spamellab.com