Gua Sha. Have you heard of it? What do you know about it? What is it?
It sounds mysteriously magical, don't you think? But if you happen to have dug a bit deeper to find out what this trending self-care and skin-boosting technique actually means, you'll know 'Gua' means scraping and 'Sha' means redness of skin.
1
We don't know about you, but if you're only going on the English translation of these two words, then the word 'ouch' may just spring to mind… But there's
way
more to know about Gua Sha other than what it means. For instance, it's got a long old history that can be traced to the Stone Age when hunter-gatherers rubbed stones on their body to alleviate pain.
2
Meanwhile, Gua Sha has been used in traditional Chinese medicine, as far back as the Ming Dynasty in 1368, to treat issues related to chronic pain caused by inflammation. The main aim of Gua Sha is to literally scrape away illness. (Ouch. Again). In traditional Chinese medicine, energy is referred to as 'qi' or 'chi'. And when it's not balanced or becomes stagnant, it can potentially cause inflammation. However, rubbing the skin's surface is believed to be an effective way of breaking up this stagnant energy and reducing redness. And this, in other words, is what's commonly referred to as Gua Sha or Gua Sha massage, which can be carried out on your face, body or scalp.
3
Less pressure tends to be applied if you are having a Gua Sha facial due to the fact the skin on our face tends to be more delicate and sensitive than elsewhere on our body.
4
When should you Gua Sha?
Most skin treatments, such as facials, aren't something you do every day, but every now and again to promote skin health. Can the same be said for Gua Sha? Let's delve a bit deeper shall we…. There aren't any set rules that tell you when you should and shouldn't Gua Sha. It's important to listen to your skin and be guided by that. For example, if you wanted to, you could do it once, twice or three times a week. But if you're looking to relieve facial muscle tension or tackle wrinkles, then you may want to do get into the habit of doing it every day.
5
Some people like to Gua Sha in the morning to help reduce puffiness and give their skin a boost. Others prefer to do it in the evening to relax their muscles and release tightness. The main thing is, you find the routine that works best for you, and stick to it.
6
How does Gua Sha work?
You can go to a professional for a Gua Sha facial or you can practice some Gua Sha on yourself, whatever works best for you. It essentially involves scraping a flat, rounded tool over your skin. It gets to work by:
7
Relaxing muscles.
Getting energy and blood moving.
Reducing puffiness.
Encouraging healthy circulation (by up to 400%)
Eliminating toxins and generating oxygen and nutrients.
Encouraging the skin to make new collagen.
Some people describe it as a combination of massage and workout. While others say it really helps relieve feelings of tension. Overall, it's said to leave skin immediately feeling more supple and with a healthy glow.
What is a Gua Sha tool?
It's what's used to scrape the skin, using short or long strokes to promote circulation and increase blood flow. Gua Sha tools have smooth edges and are applied with water or massage oil.
8
Just as Gua Sha can be used on different parts of the body, there are different Gua Sha tools you can use. They're mainly made from either rose quartz or jade crystals and come in the form of rollers, pretty 'pebble' shaped stones and many more shapes that wouldn't look out of place on a coffee table.
9
Which stone is best for Gua Sha?
It's entirely down to personal preference. Some people prefer rose quartz, while others prefer to use jade, as well as other materials.
Rose quartz
Has long been associated with helping repair, destress and decongest complexions, thanks to its remarkable healing properties. It's widely linked to reducing the appearance of wrinkles. Try this
Rose Quartz Facial Wand from The Psychic Sisters.
Jade
Is known for eliminating toxins to maintain skin's health and clarity. It's also reportedly beneficial for helping with breakouts and skin congestion. Before we move on, a quick note about jade rollers and Gua Sha…
10
Jade rollers and Gua Sha tools are different.
Jade rollers are specifically designed for lymphatic drainage massage. While Gua Sha tools are for fibrous tissue release massage, which is made possible because of their contoured edges, and the end result isn't too dissimilar to foam rolling. (See image below) But don't get too hung up on the differences, the main thing is, both rollers and the many other elaborately shaped tools are geared up to promote optimal circulation and lymphatic drainage. Try this
Jade Facial Roller by The Psychic Sisters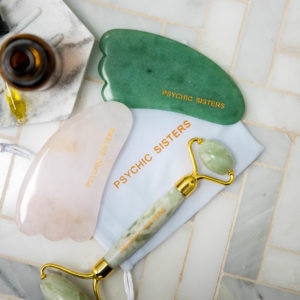 How do I give myself a Gua Sha massage?
So, now you know what it is and why people do it. Which tools you need to do it. You even know a bit about its long old history. But if you're planning on giving it a go yourself and not going somewhere to get it done, how do you go about it? Here are some practical pointers to help get you started:
1
1
How to give yourself a Gua Sha facial
Make sure your skin is wet or has oil on it, never use your Gua Sha tool on bare skin. (Applying a facial oil or making sure your skin is moist helps ensure your tool will slip and glide over your face with minimal friction).12 Check out our pick of the best facial oils here.
Hold your Gua Sha tool flat against your skin.
Then use the curved side and work it over the skin, always taking short strokes in just one direction, don't go back and forth.
Stroke it down the neck to drain, not upwards.
Work it in small horizontal strokes over the brow bone to lift or hold and press upwards between the brows to release tension.
If you want to reduce puffiness, work lightly, then more firmly to relax muscles. (Your skin may look flushed afterwards, but like post-workout redness, this just shows a boost in circulation).
Do not do Gua Sha if you are prone to broken capillaries.
Try and avoid areas of broken skin or breakouts.
3 tips for using your Gua Sha tool
Move it in gliding motions going upwards and outwards
Start from the centre of the face, then use the tool to go down the sides of the neck to maximise lymphatic drainage.
Always use light pressure13
Feeling all geared up about Gua Sha now? We hope this article has helped you see past the unusual name and the translation, and opened your eyes to the many ways it can benefit the skin on your face, as well as on your body. Your Gua Sha journey starts here!
Shop Natural Beauty
Last updated:
27 January 2021 Expertly reviewed by:
Sources
1
https://www.vogue.com/article/gua-sha-history-at-home-self-care
2
https://www.harpersbazaar.com/beauty/skin-care/a11234/gua-sha-treatment/
3
https://www.net-a-porter.com/en-us/porter/article-81c1680be5fd1b8c/beauty/skin/gua-sha
4 https://www.healthline.com/health/gua-sha 5
https://fabfitfun.com/magazine/everything-to-know-about-gua-sha/
6 https://www.net-a-porter.com/en-us/porter/article-81c1680be5fd1b8c/beauty/skin/gua-sha 7 https://www.net-a-porter.com/en-us/porter/article-81c1680be5fd1b8c/beauty/skin/gua-sha 8 https://www.healthline.com/health/gua-sha 9
https://www.cultbeauty.co.uk/blog/2018/03/what-you-need-to-know-about-the-gua-sha
10
https://www.glamour.com/story/gua-sha-jade-roller-how-to-use
11 https://www.net-a-porter.com/en-us/porter/article-81c1680be5fd1b8c/beauty/skin/gua-sha 12 https://fabfitfun.com/magazine/everything-to-know-about-gua-sha/ 13 https://fabfitfun.com/magazine/everything-to-know-about-gua-sha/