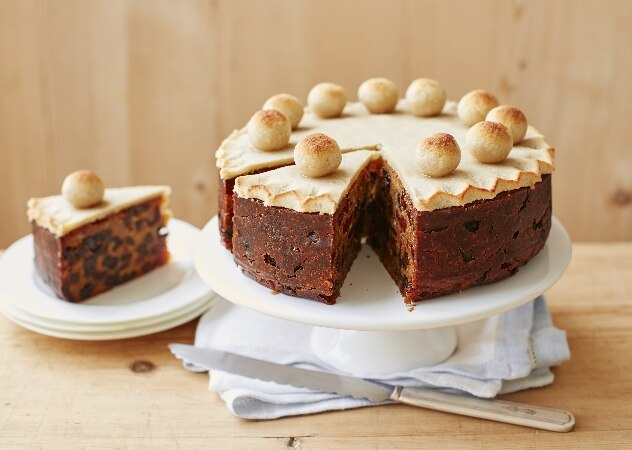 Preparation time: 30 minutes plus cooling Cooking time: 2 hours 30 minutes Makes 30
METHOD
1.
Place the dried mixed fruits in a bowl, heat the orange juice and pour over the fruit, stir well, leave to stand for 2–3 hours until the fruits have soaked up the juice.
2.
To make the marzipan, place the ground almonds in a food processor and blend to a finer crumb. Add the maple syrup and almond extract and blitz until well combined. Form into a ball, wrap in cling film and leave in the fridge to chill while you make the cake.
3.
Heat the oven to 150ºC/130ºC fan/gas 2. Lightly oil and line a 20cm round loose-bottom cake tin with parchment.
4.
Beat together the butter, agave nectar and eggs, then add the flour a spoonful at a time, whisking well after each addition. Fold in the cinnamon and lemon zest along with the soaked fruits and any remaining juice. Spoon into the prepared tin, level the top with the back of a metal spoon then bake for 2–2 1/2 hours, until a metal skewer, when inserted into the centre, comes out clean.
5.
Allow to cool in the tin for 30 minutes then transfer to a wire rack to cool completely.
6.
When cool, brush the top of the cake with some of the honey. Halve the marzipan and roll one half into a disc large enough to fit on top of the cake. Crimp the edges with your thumb and finger, gently score the top into a diamond pattern and brush with a little more honey.
7.
Roll the remaining marzipan into 11 balls and place around the top of the cake. Brush the balls with a little honey and grill for 1 minute until it just begins to colour. Take care – it will burn quickly if not watched.