Jacqueline Meldrum – Blogger Published: 14-06-15
Do you want to know what it's like to live as a vegetarian in modern day family life? Jacqueline Meldrum provides us with insight and some great meal tips. Please note this account is a personal experience and should not be considered dietary advice.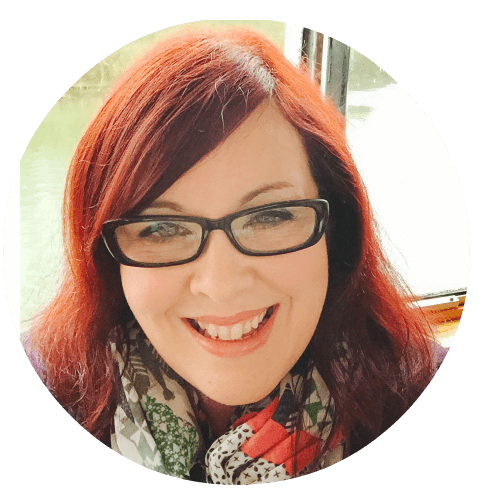 My name is Jacqueline Meldrum, I live in Dundee, Scotland with my husband, son and a crazy springer spaniel puppy called Huxley. My easy to cook recipes can be found on my award winning vegetarian and vegan blog Tinned Tomatoes.
WHERE IT ALL STARTED?
The vegetarian family is mine. I grew up in a traditional meat and two veg family back in the 70s and 80s. I don't think my mum knew anything about being a vegetarian back then. She definitely knew I didn't like meat and was fussy about eating chicken and fish, but she would never have thought to guide me towards a vegetarian diet.
When I left home to go to Art College I had the freedom to choose what I ate and that's when I became vegetarian. I didn't have many recipes under my belt, so I ate lots of pizza, baked potatoes and ready-made salads.
Once I moved in with my husband to be (who was also vegetarian), I took more of an interest in cooking. Let's face it, it's more fun to cook for two. I soon had a notebook full of recipes and had caught the cooking bug.
Now we have a little boy who we're raising as a vegetarian and my husband has moved on to a vegan diet, so making healthy meals is more important than ever.
SO WHAT DOES A MODERN VEGETARIAN OR VEGAN DIET LOOK LIKE?
Breakfast
We have a busy lifestyle and we head out the door every morning in a rush. My little boy's breakfast of choice is porridge with raisins, banana, cinnamon and flax seeds (also known as linseeds), but sometimes he just wants toast with jam on it. As long as he has something to eat and drink before we leave the house I'm happy and he always has some fruit in his bag for a snack.
I can hold my hands up to not being great at breakfast time, but I do make us smoothies every morning. I throw fruit, vegetables, seeds and nutritional powders into my power blender with some water to thin the mixture down, I hit the switch and a few seconds later I have enough for us all to enjoy throughout the day.
Lunch
My husband and I tend to have these vegetable based smoothies for lunch and drink lots of water during the day, but if I'm feeling hungry I'll have a baked potato with cottage cheese or soup for lunch. I'm usually online catching up on emails and work at lunchtime, so a smoothie is a really easy option.
My hubby likes a roll packed with salad or some crusty bread and hummus if he's feeling hungry and our little boy has cooked school lunches which always include a vegetarian option.
Occasionally he'll take a packed lunch instead of the set meal. Today is one of those days. Vegetable curry is on the menu and he hates it, I don't know why as he loves dal, but there you go. So in his lunch box today he has a smoothie, some falafel, cucumber, carrot sticks, yoghurt, raisins, bread sticks and a plum.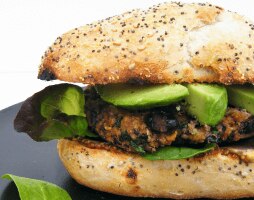 Dinner
On weeknights after work I tend to make easy meals like homemade soups, salads, pasta or dal. On my days off I'll spend a bit more time making pastries, stews and homemade burgers. We're not perfect, we still eat takeaway pizza, but when we have time we make our own, it tastes better, it's cheaper and much more fun to make.
Dessert
We don't really eat dessert during the week. If we have anything it tends to be some yoghurt. My little boy likes Greek yoghurt with a drizzle of fresh raspberry syrup (from a local farm) and some sprinkles, I like citrus flavoured yoghurts and my husband loves Alpro dairy free yoghurts.
At the weekends, I might make a crumble with dairy free custard, a fruit salad or a rice pudding and we all have an occasional craving for dark chocolate, which I keep a supply of. It has to be 70% cocoa or higher though.
WHAT IT'S LIKE BEING A VEGETARIAN TODAY?
It's much easier to be a healthy vegetarian today, even if you do have a very busy lifestyle. As well as all the fresh produce, pulses and grains and nuts there are lots of great quick veggie choices you can make.
Pick up some fresh hummus and falafel, add some interesting cheese, some pickles and sour dough bread or oatcakes and you have an instant meal. If you have a power blender you can throw some frozen green vegetables and stock into the jug, whizz it up and have a healthy meal on the table in minutes for just pennies.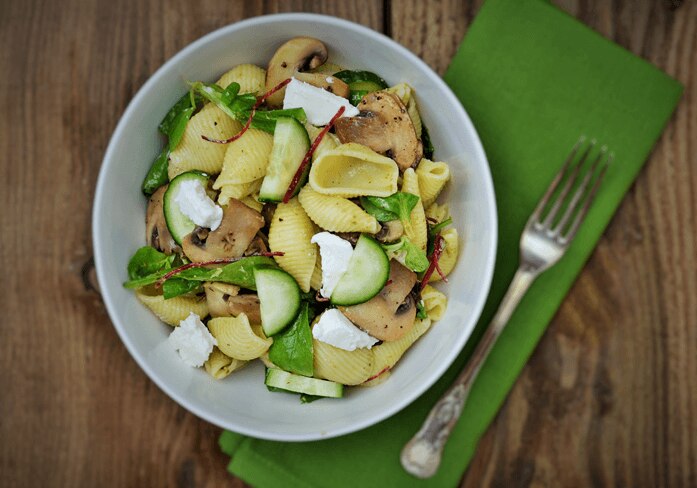 Why not try some of these simple, but delicious recipes: